Under the strategic background of Industry 4.0 and Made in China 2025, Dahua accelerates the promotion of intelligent manufacturing, continues to promote mobile production and flexible manufacturing, and greatly improves the flexible delivery capabilities of products.
In 2017, Dahua Smart Internet of Things Industrial Park was officially put into use, marking Dahua's move towards smart manufacturing.
Dahua Smart IoT Industrial Park covers a total area of 512 acres (with a total construction area of 510,000 square meters), of which the first phase covers an area of 262 acres (with a construction area of 290,000 square meters). The planned manpower is nearly 6,000 and the existing manpower is nearly 4500 people. As a high-end manufacturing industry base and modern logistics center, the park produces high-quality, high-tech smart products and provides first-class services to maintain its leading position in the industry. It continues to promote automation, informationization, digitalization, and intelligent construction to support the company. Orderly business development.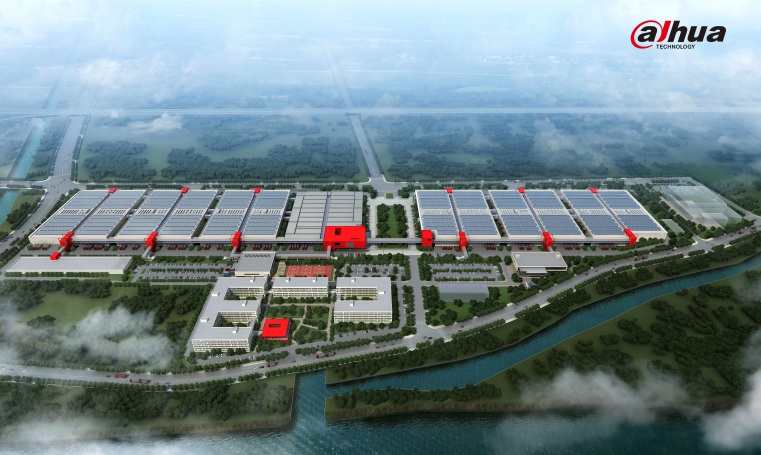 Internet of things and information construction
Relying on Dahua's advantages in video +, intelligent algorithms, face recognition, etc., the park combines the command center dispatching system, time and attendance system, big data platform, etc., to achieve the interconnection and interoperability of the entire park's human flow, logistics, and vehicle flow and unified dispatch. Relying on ERP, PLM, PDM, MES, APS, WMS, and other systems, production integrates industrial cameras, RFID, big data technologies, and realizes the construction of a complete set of information systems. It integrates people flow, logistics, vehicle flow, information flow, engineering flow, and product flow. Connectivity, gradually forming a visual, traceable and digital park.
Advanced manufacturing equipment
The park introduces world-class manufacturing equipment. 多条SMT自动化生产线;整机组装:拥有自主知识产权全自动化生产线50多条,已实现1个样板工厂、3个柔性工厂的自动化生产规模;精密制造:拥有世界先进的MAKINO镜面电加工机、MAKINO高速石墨加工机、GF高速CNC、GF慢走丝线割加工机等30 余台 ;为生产效率和产品品质提供全方位设备的保障。 Single board manufacturing: including Siemens X series high-speed placement machines, solder paste printing machines such as DEK and MPM, reflow ovens such as ERSA, wave soldering furnaces, SPI automatic solder paste inspection equipment, AOI automatic optical inspection equipment and X-ray Completed more than 30 SMT automated production lines with other testing equipment; complete machine assembly: more than 50 fully-automated production lines with independent intellectual property rights, and has achieved automatic production scale of 1 model factory and 3 flexible factories; precision manufacturing: possesses the world's advanced More than 30 sets of MAKINO mirror surface electric processing machine, MAKINO high-speed graphite processing machine, GF high-speed CNC, GF slow-feed wire cutting processing machine, etc .; provide comprehensive equipment guarantee for production efficiency and product quality.
Lean supply chain management
Combining theories of TOC, lean production, 6 sigma, etc. to promote balanced production and sales and synchronous manufacturing. Driven from the key chain of the supply chain, gradually improve the balanced production and sales and mobile production mode. Drive the formation of the flexible manufacturing mode of the base in the form of project orders, advance the project, push the ability of concurrent engineering and synchronous manufacturing, and realize the synchronous design of the project, material preparation, veneer, and synchronous manufacturing with the whole machine.
Leading manufacturing technology
Dahua adheres to the "artisan spirit" of dedication, leanness, focus and innovation, and always strictly controls the quality to ensure high quality products and high precision in the production process. Single board manufacturing: According to the IPC standard, it can reach 35Pcs / S, the placement accuracy is ± 0.025mm, and the smallest device can reach 0.3x0.15mm, which is in the world's leading level. Complete machine assembly: Combining Dahua's own algorithm and automated development advantages, and continuously standardizing testing standards to achieve 100% full coverage of the whole machine automatic test, the repeated positioning accuracy of the assembly fixtures is as high as ± 0.02mm; Precision manufacturing: CAD / CAM / CAE's "collaborative design, simultaneous manufacturing" greatly shortens the mold opening cycle of structural parts, the fastest 7 days, the manufacturing accuracy can reach ± 0.002mm, and the surface processing quality of parts can reach the world-class VDI12 # standard.
At the same time, it has advanced measurement equipment, such as Hexagon three-dimensional measuring bed, Nikon projector and electronic display, with an accuracy of up to ± 0.002mm. Secondly, it has established a reliability laboratory (currently it has a complete product application baseline, and the test covers The entire product life cycle, from prototypes, small batches to mass production maintenance), establishes an effective closed loop for quality control during the manufacturing process.
In the future, Dahua will take the smart factory as the carrier, the key manufacturing link intelligence as the core, the end-to-end data flow as the basis, and the network interconnection as the support to effectively shorten the product development cycle, reduce operating costs, improve production efficiency, and improve Product quality and reduced energy consumption. To achieve effective sharing and efficient allocation of upstream and downstream resources in the industrial chain, precise docking of customer needs and product design and manufacturing, and build a high degree of end-to-end collaboration in the manufacturing business chain. Lead the domestic security industry and related enterprise technology upgrades, thereby promoting the industry's overall technological level to a new level.