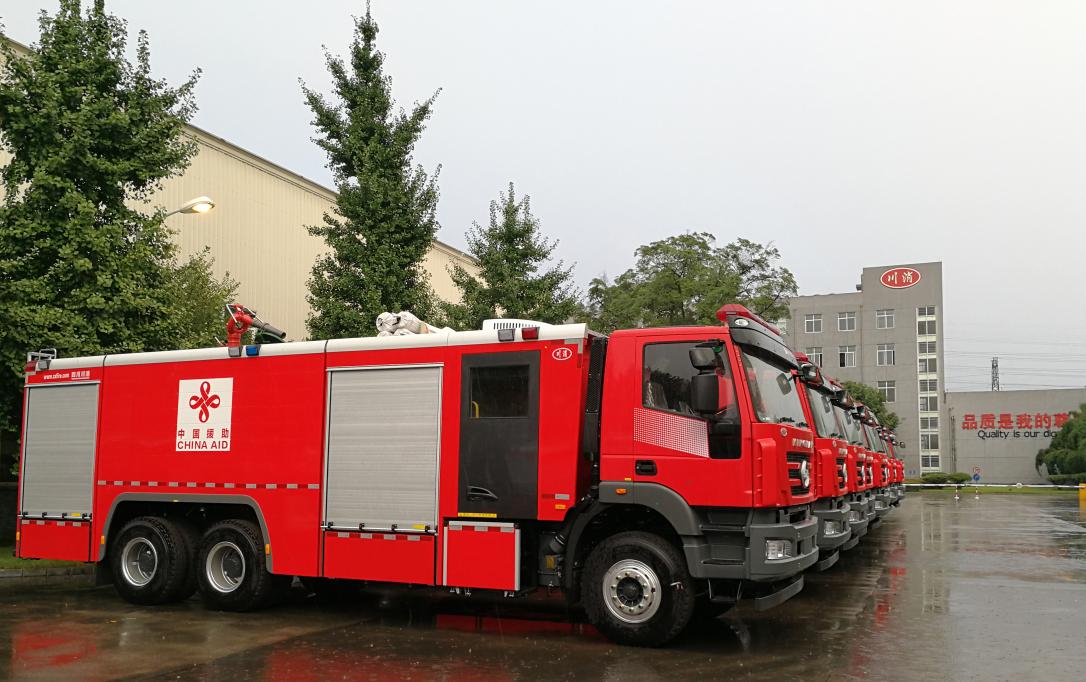 A few days ago, a vehicle handover ceremony for China's assistance to Papua New Guinea (hereinafter referred to as "Papua New Guinea") was held in Port Moresby, the capital of Papua New Guinea. 辆"川消"品牌消防车正式交付巴新方,并将在今年11月举行的APEC领导人非正式会议期间发挥重要作用。 As one of the key projects of this assistance, 9 Sichuan firefighting brand fire trucks assisted by Sichuan Chuanxiao Fire Fighting Vehicle Manufacturing Co., Ltd., a subsidiary of CIMC Group, were officially delivered to PNG, and It will play an important role during the APEC Informal Leaders' Meeting in November this year.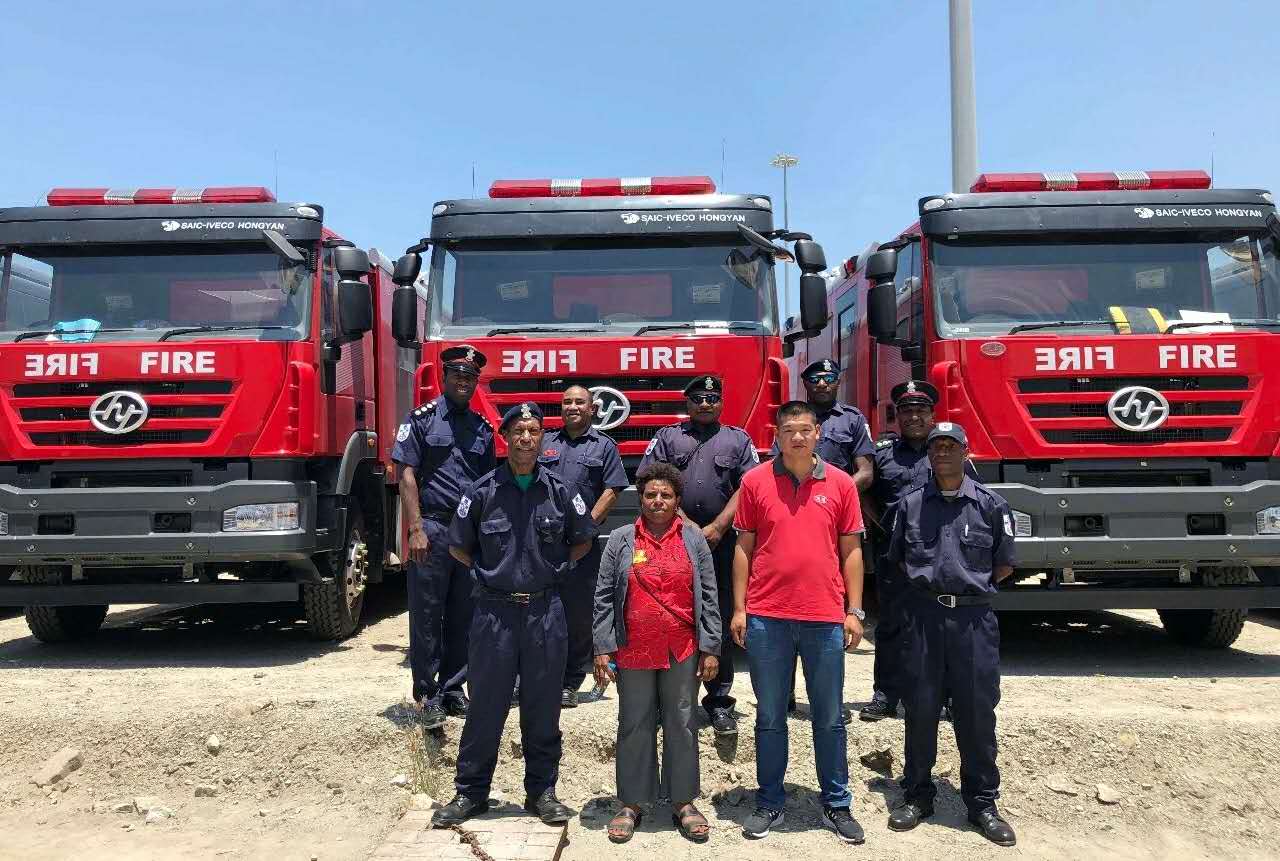 Chuanxiao fire training service personnel (front right, second from right) at the delivery site of the fire truck
In his speech, Xue Bing, the Chinese ambassador to Papua New Guinea, said that in recent years China-Pakistan relations have developed vigorously and fruitful cooperation has been achieved in various fields. 领导人非正式会议用车,之后将用于城市交通及消防,继续造福巴新民众。 The vehicles assisted by the Chinese side, including buses and fire engines, will be used for the APEC Informal Meeting of Leaders held in Port Moresby, Papua New Guinea in November this year, and will be used for urban transportation and fire protection to continue to benefit Pakistan. New people. 会议期间发挥巨大作用,也将长久造福巴新人民。 Malaysian Ministry of Planning Minister Ma Lu said that the vehicles donated by China this time will not only play a huge role during the APEC meeting, but also benefit the people of PNG for a long time.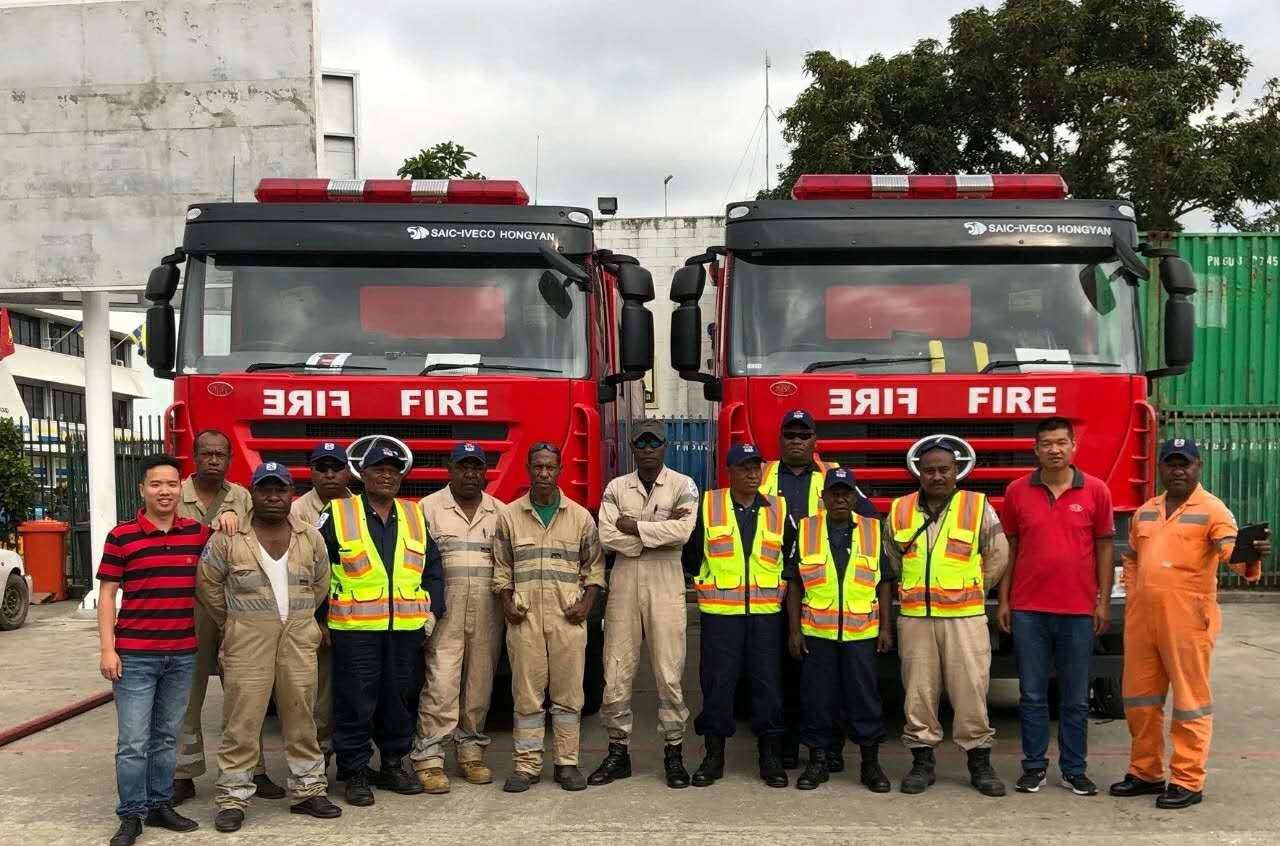 APEC 领导人非正式会议,中国对援建的项目和援助的产品质量都有着极其严格的要求。 It is reported that in order to help the PNG successfully host the APEC Leader Informal Meeting, China has extremely strict requirements on the quality of the aided projects and aided products. Among them, the fire truck, as the key product of this assistance, will play an important role during the meeting, and the requirements are even more stringent. ' 川消 ' 消防车最终被选为会议安全保障车辆,与其一流的产品品质、优质的服务口碑等息息相关。 " 川消消防董事长王德凤表示。 " As a well-known fire truck brand in China, the" Chuanxiao " fire truck was eventually selected as the meeting safety protection vehicle, which is closely related to its first-class product quality and excellent service reputation .
According to Wang Defeng, Chuanxiao Firefighting was established in 1963, and after more than half a century of development, it has become a modern firefighting enterprise with comprehensive comprehensive strength in China. 大类200余种消防车,部分新型消防车的性能超过国外同类产品,填补了国内空白,并与世界水平保持同步。 Over the years, Sichuan Fire Fighting has continuously strengthened its technological research and development. It has developed more than 200 fire trucks in the three categories of fire extinguishing, combat, and lifting. Some new fire trucks have better performance than similar foreign products, filling domestic gaps and meeting world standards. Stay in sync.
力,为消防车市场的持续拓展提供坚强的保障。"王德凤补充道,"无疑,川消消防强大的综合实力成为本次入选援助产品的最核心砝码。" "At present, Chuanxiao Fire has continuously improved and improved on-site delivery, customer training, spare parts support, technical information, etc., established a global customer service network, formed an efficient and rapid service response capability , Continuous expansion provides strong protection. "Wang Defeng added," No doubt, the strong comprehensive strength of Sichuan Consumer Fire Protection has become the core weight of this selected assistance product. "
It is also reported that the fire truck business of CIMC Group is currently operated by CIMC Tianda Holdings Co., Ltd. (hereinafter referred to as "CIMC Tianda Holdings"). CIMC's subsidiaries in addition to "Firefighting" two fire truck brands, as well as Germany's century-old high-end fire truck brand "Zigler", Ziegler is currently China's number one imported fire truck brand. 月拟收购的沈阳捷通也将成为其旗下的重要消防车品牌。 In addition, Shenyang Jietong, which CIMC Tianda Holdings intends to acquire in July 2018, will also become its important fire truck brand. The fire truck business is an important strategic business in the manufacturing field of CIMC Group. Over the years, CIMC's fire truck products have been continuously recognized by governments at all levels.
月起,中集陆续向深圳市公安局宝安分局交付75辆消防车,助力深圳" 5分钟 "城市消防圈建设,得到深圳市、区两级政府的高度赞赏。 Taking Shenzhen as an example, starting from April 2018, CIMC has successively delivered 75 fire trucks to Baoan Branch of Shenzhen Public Security Bureau to help the construction of Shenzhen's " 5 minutes " urban fire ring, which is highly appreciated by the Shenzhen and district governments . "装备+ 金融 + 服务"一站式整体解决方案,得到广东省政府的青睐,并与广东省公安消防总队签订《战略合作协议》。 In addition, CIMC also won the favor of the Guangdong Provincial Government with its one-stop overall solution of "equipment + finance + service" and signed a "Strategic Cooperation Agreement" with the Guangdong Public Security Fire Corps. The two sides agreed to innovate the cooperation mode of fire protection equipment on the basis of mutual benefit and win-win results, and promote the upgrading of the province's fire protection industry.
" 中集天达控股相关负责人表示。 " Whether it is this assistance or major domestic cooperation over the years, customers have highly recognized CIMC's fire protection products. In the future, we will continue to provide global customers with better services with a one-stop overall solution. " Relevant person in charge of Jitianda Holdings said.